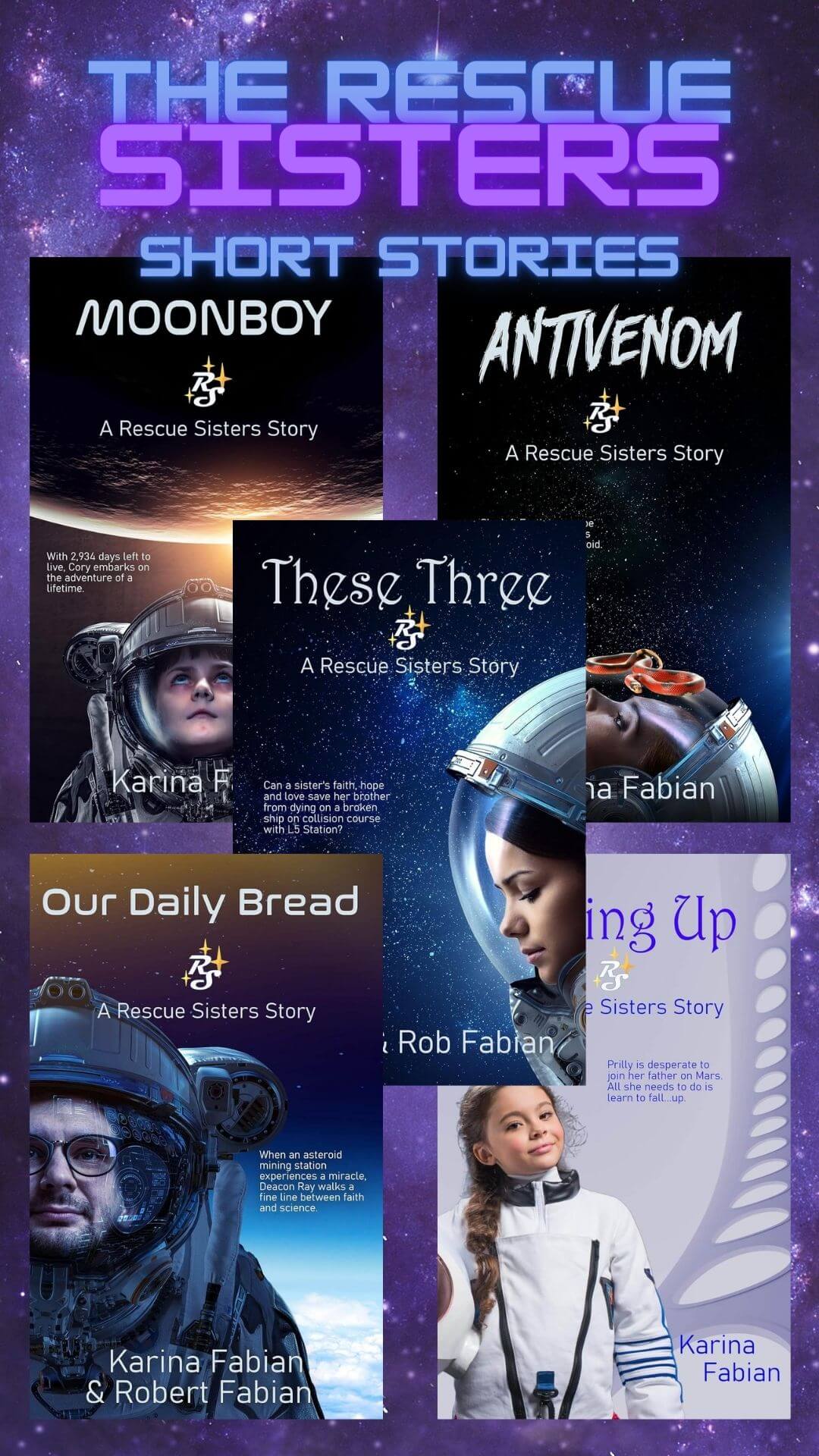 Science Fiction, Short Stories
Various Publication Dates, earliest in 2016
Nuns, Sisters, Vocations, Saints, Paramedics, Rocketships, Rockets, Space, Spaceships, Snake handling, Evangelicals, Moon base, Space colonization, Space stations, Birth Defects, chronic illness, miracles, the Eucharist
In 2016 Fabian wrote her space time treasure hunt story Discovery. It's a fun romp that even won a Best of the Year Award on Catholic Reads, but Fabian correctly realized that the real gem of the novel was The Rescue Sisters, an order of paramedic nuns who assist travelers in space. She then went on to write these five short stories featuring this order of heroic women and the wider world of Discovery, and to be honest I like these stories even better than the novel.
Each story can be read as stand-alone adventures in any order and combination with the full-length novel, Discovery. Some of the heroes from Discovery make appearances, but readers won't be confused if they haven't read the full-length novel. True to Fabian's reputation, each story is fun, intriguing, and packing a deep emotional punch behind the banter.
Antivenom is Snakes on a Plane in space. The sisters have to rescue the crew of a rocket whose shipment of snakes for their Evangelical church's snake-handling ceremonies gets loose in the zero gravity. Most of the sisters have grown up in space and have never even seen a snake. It's funny. It's action packed. Sister Rita, Sister Ann and Sister Thomas from the novel Discovery are the main characters.
Moonboy follows the adventure of Cory Taylor, the first child born on the moon, as he decides to run away. Although the main character's childishness keeps the story from becoming too dark, the premise is sobering. He has learned that due to the complications he has suffered from growing up away from Earth's gravity, he isn't expected to live more than a few more years. Shaken by this revelation, he decides to run away from home to the lower gravity of the Asteroid belt and make something of his short life.
Luckily for him, he accidently ends up with the Rescue Sisters who plan to send him home to his parents the next day. Not so luckily, a moon quake leads to him having to save the sisters, himself, and an entire community of aesthetic monks on the moon. The setting of the hermitage is taken from Tim Myer's Brother Jubal and the Womb of Silence from the story collection Infinite Space Infinite God (also a fantastic story but you don't have to read it to follow this one.)
This was my favorite of the stories. Cory's heroism in finding a way to save everyone when he can't even walk without crutches and his desperate bravery in the face of death was incredibly moving. This one is also probably the story that non-Catholics would enjoy the most.
Falling Up follows a young girl staying in an orphanage run by the Rescue Sisters as she learns how to fall up—to move in the low gravity after living on Earth. At first, she sees only her classmate's bullying and her own fear of flying but gradually learns how her classmates are wrestling with far deeper fears and anxieties. She's only there temporarily. Her mother died and she's staying with her Aunt Edith (Sister Edith to the other children) until her father can come pick her up and take her to the colony on Mars where he lives. Her classmates, however, have no such hope of having even a broken family. This one is very short, melancholic, and full of stunning visuals of space.
Our Daily Bread is a close second favorite for me because it captures what daily life might be like for Catholics living in space, even down the mechanics of how someone would kneel in adoration in a Zero G environment. It follows a deacon ministering to a small community of Catholics on an asteroid mine. His wife on Earth wants him to quit his forays into space and stay home so they can start a family, but he is worried about who will be left to care for his flock if he does. When tragedy strikes and an accident leads to them losing all but a few remaining hosts for their communion services, his faith is put to the test. I also like how Fabian handled the tension that comes up between the Catholic members of the station and the non-Catholics. If you've got a non-Catholic friend you want to share a book with, this short story will probably go over well with them and provide some fruitful discussion.
These Three is an accounting of how the fictional founder of The Rescue Sisters, Sister Gillian, preforms the miracle that ends up getting her declared a saint. A dilapidated space ship suffers an accident and is on a collision course with a nearby colony. Sister Gillian appears to the sole surviving passenger, urging him to action. She also appears in the night to the passenger's sister, one of the Rescue Sisters, rousing her to prayer and her order to the rescue. Its action packed and heartfelt and, frankly, is the proof I throw at people whenever I get complaints that the Catholic Church is sexist. (Actually, this whole series is but this one is especially indicative of heroic Catholic women being kickass.)
This series is heavily Catholic and doesn't shy away from it, but it's also a series I can see anyone of any faith enjoying because the focus is on telling stories of people just living their lives in space. Those lives just happen to be uniquely and unapologetically Catholic. It's also appropriate for nearly any age group that can read, and if you're looking for a safe series to put in your Catholic library or school, The Rescue Sisters stories are essential reading.
Get Catholic Books & eBooks for as little as $1 to FREE