Genre: Nonfiction, Spiritual
Themes: pets, dogs, blessings, fear, faith, morality, virtue, grace, wisdom, the gifts of the Holy Spirit, The Rosary, The Sacred Heart, Guardian Angels, Daily life, Spiritual growth, sainthood, saints, vocations, spiritual reading, spiritual exercises, new year's resolutions, lent, Christmas, birthdays, St. Valentine's Day, Holy Week, Easter, Mass, Marriage, Confession, Engaged Couples, New Parenthood, Graduation, Heaven, Babies, Baseball, Discipleship, Forgiveness, Humility, Humor
Audience: Adult
Author's Worldview: Catholic
Year Published: 2020
If you struggle to figure out how to grow spiritually in your busy life or just feel a dryness from the Holy Spirit, this book might just be your answer. Each chapter centers around a phase or issue of life and gives you five tips for using that moment to grow in holiness and love with Jesus Christ. Be it an entry on preparing for a new baby, raising pets, or birthday gifts, Fr. Bill has something for nearly every occasion. There are a few books I've read that I can say the same thing about but what makes this one stand apart is that it's actually hilarious.
OR

Subscribe to Catholic Reads & Get Weekly eBooks 50% off to FREE
For example, in his chapter about Lent, Fr. Bill observes that "Often, we think of our spiritual lives like we think of a hobby. If I get time, I'm going to work on my prayer or my tennis game, or my bagpipes or my French lessons. God is not going to ask us in French how our tennis serve is." The humor is quick, humble, and sure to brighten anyone's day.
As of his writing this, Fr. Bill led the parish at St. Peter's on Capital Hill in Washington D.C. Many member of the House of Representatives on both sides of the aisle attend his masses. Occasionally he mentions times when these members of our government come together for baseball, picnics and church prayer services. It was interesting to get a glimpse of the very normal spiritual lives of our nation's leaders. In chapter 9, Fr. Bill lists out 5 prayers for the USA and says, "Catholicism is neither red nor blue, but the teachings of the church are always true. Regardless of how we might have voted, after the election we must unite in prayer for our nation so we don't lose sight of the duty that is ours as Americans and Catholics." Though this reviewer is unaware of Fr. Bill's broader political philosophy, his leadership and theology in this book are positive and edifying influences for anyone but especially American Catholics.
Though I read this quickly in order to write a review, I will most certainly be making it my daily reflection at the start of the day. The chapters are short enough I can read them in the time it takes for the microwave to beep, and wise enough that I can see the great fruits of the Holy Spirit in them if I pay attention. Though I've never met him, Fr. Bill's warm and fatherly personality shines through on every page.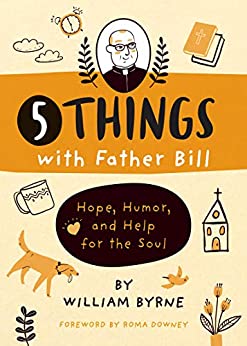 Subscribe to Catholic Reads & Get Weekly eBooks 50% off to FREE
Five Things is the perfect pocket book for the busy Catholic looking for a quick and easy way to add a touch of intentionality into their lives. Fr. Bill has entries on every major Catholic holiday and a few addressing the vocations of parenthood, priesthood and even doggy-parenthood. His humility and good humor made this book a quick and entertaining read. This book is most appropriate for Catholics as it refers to commonly known Catholic concepts without explanation for the unchurched reader, however no great theological mind is required to glean the wisdom of these pages. As I write this, the publicist has just informed me that Fr. Bill is soon to become Bishop Bill. After reading his book I know any diocese will be blessed to have such a warm good-humored Father.