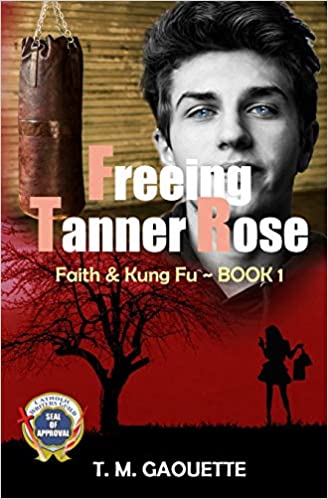 Friendship, Responsibility, Fame, Discipline, Actions and Consequences, Glamour, Society
Freeing Tanner Rose is a young adult contemporary romantic drama centering on Hollywood child star Tanner Rose, a fourteen-year-old actress who lives for the next party and dresses way too provocatively for someone her age. When Tanner blacks out at a typical Hollywood party, her mother sends her out to the backwoods of New England to clean up her act. Tanner's desperation to seek out a good time clashes with Gabriel, whose clean-cut lifestyle strikes her as boring and "square." Gabriel is sixteen years old, devoted to kung fu as well as his faith in God, to the point that he can come off as being very preachy, especially to Tanner.  How will these two teenagers ever get along?
Subscribe to Catholic Reads & Get Weekly Books 50% off to FREE
Tanner's journey to cleaning up her act is a long one, as she constantly puts herself in dangerous situations. In the pursuit of fun and adventure, Tanner doesn't consider the consequences of her actions. For example, she tries to run off with a bunch of college kids while she's out on a camping trip. In another instance, she shows off large amounts of money while shopping, leading to someone trying to rob her. However, her recklessness hides a lot of insecurity. For Tanner, partying and getting into trouble act as relief from all the pressure people put on her.
That's not to say that Gabriel is by any means perfect, either. He's self-aware enough to realize that he sometimes acts self-righteous. His selflessness also implies some stagnation, as he doesn't pursue things that a normal 16-year-old boy would, like dating or showing off his martial arts skills in a tournament. In spite of Gabriel's preachiness, it's clear that he does care for Tanner. He comforts Tanner when she is in the midst of a major emotional breakdown and he bails her out of a lot of dangerous situations throughout the book.
Over time, Gabriel and Tanner start to develop a genuine friendship. Tanner encourages Gabriel to enter a martial arts tournament. Gabriel's good influence, in turn, helps Tanner when she inevitably returns to Hollywood and realizes that the things she used to consider normal and fun are really destructive. The book goes out of its way to show that the glamourous lifestyle often seen on TV and social media has a dark side that could end up with fatal consequences.
Since this is the first book in a series, I hope to see Gabriel and Tanner's relationship blossom into a genuine romance. By the end of this book, though, they have gotten to the point that they're at least good friends who care for each other.
Subscribe to Catholic Reads & Get Weekly Books 50% off to FREE
I would recommend this novel to young adults in high school, especially to young women. Although I can't really think of a book to compare it to, the movie with AJ Michakla (Aly & AJ) called Grace Unplugged has similar themes to this book. (Famous girl trying to fit in with Hollywood while also being Christian.)