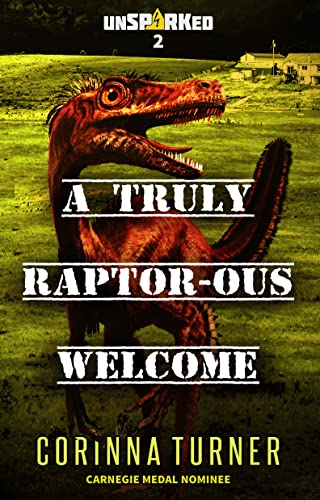 Science Fiction, Thriller, Young Adult. Dystopian
friendship, new beginnings, second marriage, responsibility, dinosaurs, survival, loss
Darryl and Harry survived their quick trip to the city—but can they survive the first day back with their new stepmom? In this second entry to the UnSPARKed series, the reader continues following two stories: the lives of farmer children Darryl and Harry, and the (as of yet unconnected) story of young hunter Joshua. Darryl and Harry are used to life on their dinosaur farm, outside the protection of the well-gated city, but their stepmother is still jumping at every new thing. How will she fit in on the farm as she meets their neighbors and their saurian livestock? Joshua meanwhile tries to fulfill his job as a hunter—capturing, culling, and otherwise handling adventures in the dinosaur-infested wilderness. But will his impatience to continue work without an assistant get him killed?
Even though there are several edge-of-your-seat moments, the overall pace of this book is set up for the adventure to come. In A Truly Raptor-ous Welcome, Turner fleshes out the culture of this dangerous future. What is life like out on the farms? How do people interact? What becomes routine when you might have raptors on your doorstep? I have thoughts of the American Wild West, with the city folk, the farmers, and the cowboys – hunters – working out how to get along and the interdependence that develops. The main characters of the series (Darryl, Harry, and Joshua) are also fleshed out in this entry, no doubt setting us up for the plot that will develop from here.
My only complaint is that I wish this book were longer, but it is a quick read by design. You will end this book wanting more. In fact, I wouldn't recommend reading this book on its own. It ends on a major cliffhanger, so plan to read the rest of the series if you want a truly satisfying read. Personally, I hope that once the entire main series is finished, they'll all be put in one convenient volume for those of us who'd rather read the entire story at once. 
But otherwise, this book is a fantastic read for all ages (except the youngest readers, as it can be scary!). This book also introduces a minor character who is a priest and who brings religion into focus, but in a way that is natural and world-building, not obnoxious. I don't think secular readers would mind, even if they wouldn't necessarily geek out about what Catholicism might look like in a dino future.
All in all, A Truly Raptor-ous Welcome is an enjoyable second installment in the UnSPARKed series – and best read in order. Once you get to this volume, you'll be hooked for the rest of the series.
Get Catholic Books & eBooks for as little as $1 to FREE