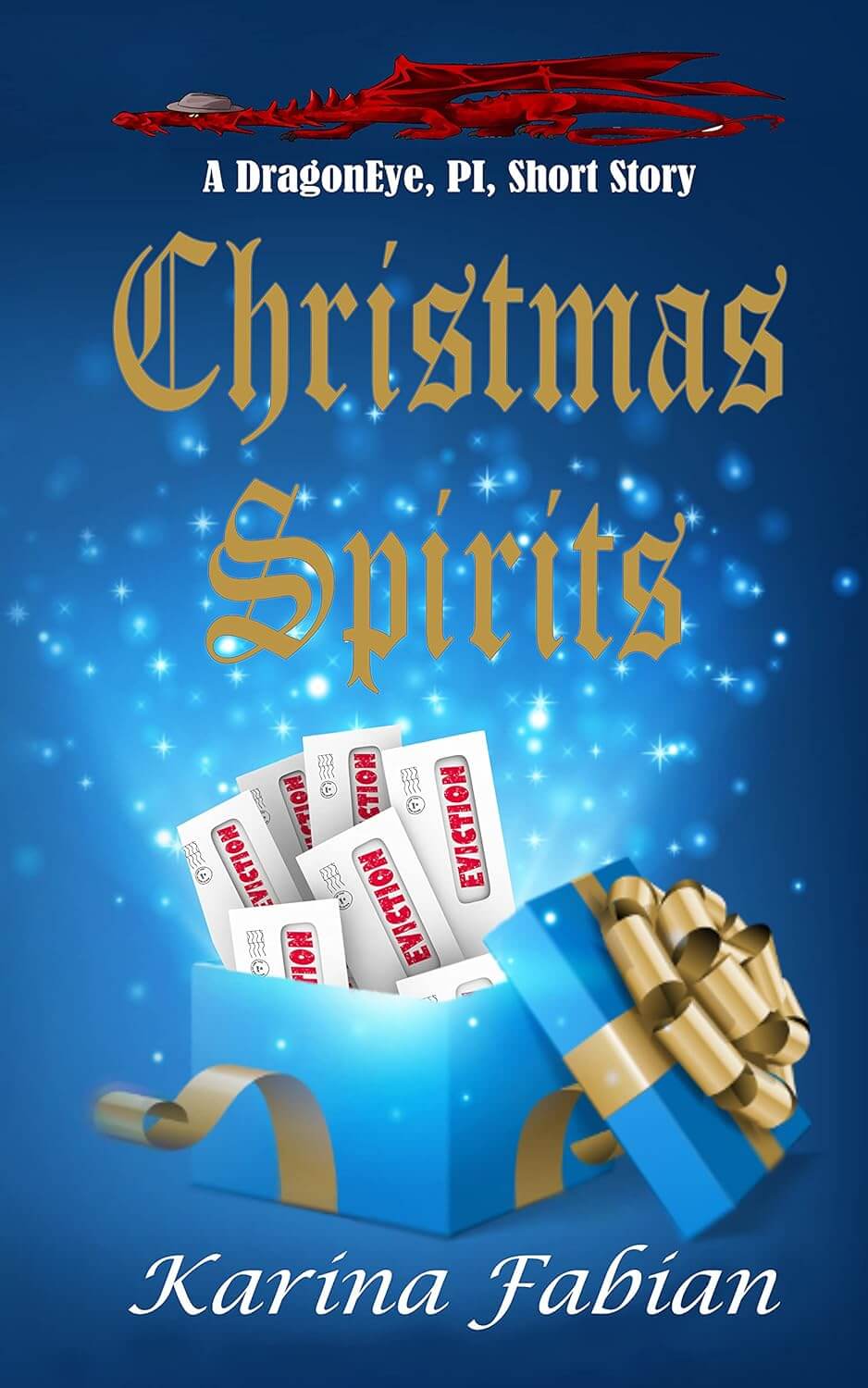 Fantasy / Mystery / Comedy / Novella
Secular, Christian, Catholic, Teens, Adults
Christmas, Greed, Commercialism, friendship, memories, A Christmas Carol, redevelopment
Private Investigator Vern, the only dragon in the Mundane world, is looking forward to Christmas with his new friend and business partner, Faerie nun Sr. Grace, despite the fact that an investment company is about to force them from their shared home. But when the CEO of the investment company is attacked by the Ghost of Christmas Past—and barely survives—guess who the police call in to solve the case? The race is on to figure out what is going on before the Ghosts of Christmas Present and Future can arrive and finish him off.
With a little more on the feel-good side than the comedy side compared to many Vern outings, this Christmas novella is short but full of heart, suitable for adult readers and teens as well.
Most of the themes are of interest to both secular and Christian readers. The novella takes a few, usually humorous, swipes at the over-commercialization of Christmas. The over-emphasis on commercialism in planning and redevelopment also forms a significant theme since the story revolves heavily around the scheduled demolition of one particular building in the neighborhood earmarked for redevelopment: an old and locally much-loved theatre. The value of a community resource and focus such as this is emphasized, though arguments for the need to sometimes move on are also presented.
The importance of supporting friends through difficult times is an ongoing theme throughout the novella, with not only Vern but also Police Chief Santry rallying around Sister Grace when she needs support. This only adds to the heart-warming nature of this Christmas story.
One aspect of this novel Catholic and other Christian readers may especially enjoy is the presentation of how different people can approach something from such different viewpoints that the good intentions of the other can be almost completely obscured. The character who provides the bridge and gives the reader a glimpse of the more overlooked good intentions was one of my favorite in the novel, since Fabian writes a genuinely sweet and innocent character who is still very engaging—not always the easiest thing to pull off. Unfortunately I cannot name this character without risking serious spoilers.
I found an element of the finale slightly anticlimactic but there was a very satisfying change of heart in one of the previously less likeable characters. (Again, serious spoilers would result if I named the character!)
Although Catholic readers are likely to particularly enjoy a series about a dragon who serves the Faerie Church, any Protestant or secular readers who are happy to read about a devout nun as one of the main characters would enjoy this book. In fact, the faith element in this Vern story is particularly minor and fully interwoven into the plot.
This book is great for adults and teens who enjoy comic fantasy with a hint of Catholicism and fancy a short, fun, heart-warming Christmas tale.
Get Catholic Books & eBooks for as little as $1 to FREE