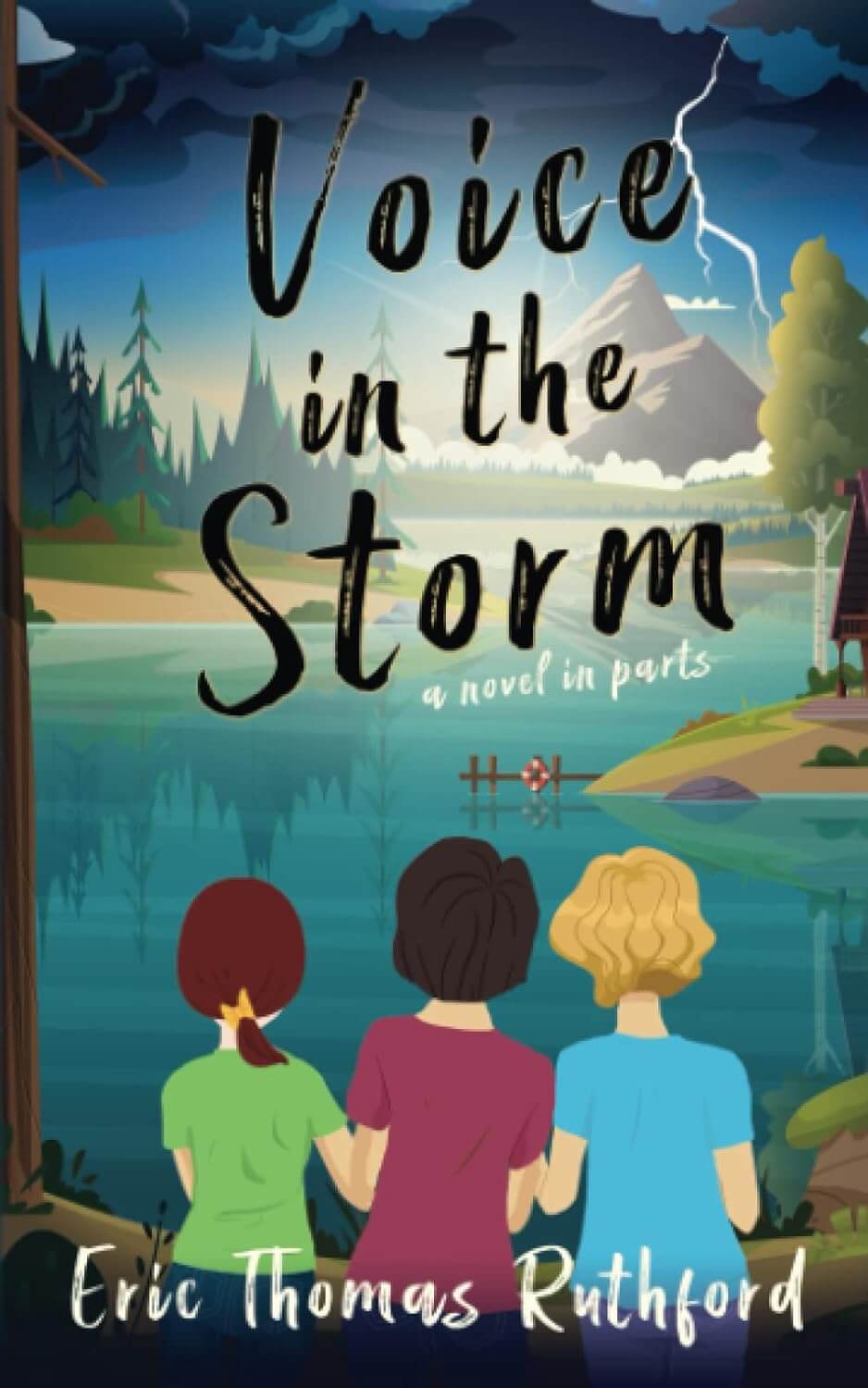 Middle-Grade/ Teen/ Short Stories / Bridge Books
Middle-Grade/ Teen/ Orthodox & Catholic Christians
Summer Camp, Orthodox Faith, Friendship, Family, Storm, Growing up
Summer camp: It's a place where bonds are made, hearts are broken, and memories never to be forgotten come into being. Author, Eric Thomas Ruthford creates a realistic fictional summer retreat for Orthodox Christian students in Camp St. Innocent.  Voice in the Storm spans three years and encompasses five novellas told from the point of view of four teens, Helene, Laura, Silouan, and Kim. The camp director, Father Nektarii helps the campers as they navigate teen hormones, feuds, and pranks¾all while practicing their faith.
Helene narrates the first and final novella. She's a shy young teen who just moved to a new town. Adjusting to her new school has been a challenge for this girl more interested in science than popularity. Her best friends, Kim and Laura, live too far away for regular get-togethers, and camp seems to be the only place to spend time with her friends. In the first story, a nearby fire threatens to close camp early. Working with the meteorologist sent to observe the fire, Helene may have found a way to move the camp to safer spot. Can she convince Father Nektarii to take a chance on her idea? In the other story, a thunderstorm overpowers the campers on a canoe trip. Helene and her friends put a feud aside in order to help her fellow campers in need.
The most dramatic story, narrated by Laura, is the second novella. Her father, a veteran, suffers from PTSD. He abuses drugs as a coping mechanism. Laura is affected deeply by this. She loves her father and wants to help him, especially when the last overdose sent him to the hospital ¾ but how?
A homeschool teen, Silouan narrates the third novella. He's a typical teen boy who likes to prank the girls who crush on him. His father has high aspirations of his son becoming a priest. But Silouan's story doesn't revolve around him and his father; instead, the focus is on Nathan, a  cabin mate of Silouan. Nathan is struggling with the fallout of his parent's failed marriage. Silouan befriends Nathan and helps him slowly come out of his shell. Can Nathan learn to enjoy himself and the other campers before the end of Summer?
Kim, the daughter of a priest, narrates the fourth novella. Priests in the Orthodox faith are allowed to marry and have children. Former camp counselor, Angelina, is getting married at Camp St. Innocent. Kim's mother, the wedding planner, has fallen ill. Can Kim plan a beautiful wedding as well as show off her leadership skills? More importantly, can Kim convince Angelina's family that she is her mother?
Reading Voice in the Storm, I was reminded of my time at Camp Villa Marie, a Catholic Summer Camp in Savannah, Georgia, and wished I could go back. The book is enjoyable, with relatable characters from different backgrounds that share one thing: their Orthodox Christian faith. Prayer and practicing their faith are central to the characters. On hikes they pray and sing hymns in Greek. Ruthford does a good job explaining the Orthodox customs to those who are unfamiliar with them. I especially enjoyed learning about St. Innocent of Alaska, the patron saint of the fictional camp. St. Innocent of Alaska is a real saint who was an Orthodox missionary priest from Alaska.
Even though, Voices in the Storm is about Orthodox Christian teens, Christians of other faiths  will relate to the characters and the themes of the book. God is at the center of everything as the characters navigate bullies at school, problems at home, demanding parents, and crushes. Fasting and Divine Service are mentioned, but the main focus is on the teens and their relationships, whether it's with God, their parents, or with each other. I want to mention that there is mildly inappropriate language with the mention of boobs for those who are sensitive to this sort of thing. Apart from this, I recommend this book to all Christian teens. As a Catholic reader, learning about the practices of the Orthodox faith added to the fun of the book.
Get Catholic Books & eBooks for as little as $1 to FREE