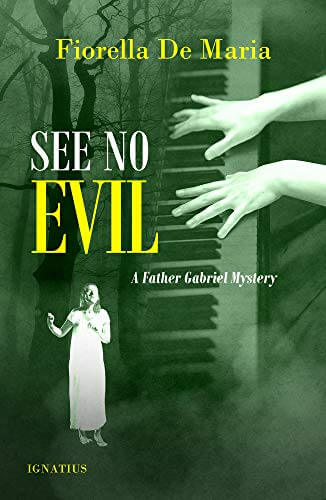 Mystery, Historical Fiction
Revenge, WWII, The Holocaust, London, England, Communism, London Bombings, Hatred, Immoral Riches, Catholics in England, Catholicism in England
A dinner party at an English manor ends in murder. See No Evil begins like many a British cozy mystery, but De Maria provides a fresh spin on this beloved genre. Father Gabriel is more than a blank-slate intellect of a detective. His adventures, for all their cozy trappings, don't keep the young priest from delving into the darkness of the human heart rather than just the darkness of society.If this book is any indication, the Father Gabriel Mystery series will please fans of Father Brown without being another washed-out retread of G. K. Chesterton.
Like most of my favorite mysteries, this story has more than one puzzle. Almost every character and scene has more than one secret to hide and all these secrets get tangled up in a most satisfying knot. There are the Martins, who host the dinner party at their manor with their mysteriously acquired nouveau-riche funds; Paul, the blue-blooded friendly communist; Molly the Irish scullery maid, who hears too much; Victor the old war journalist who's seen more than he should, and his two estranged children; Verity the musical genius; and her Uncle Bron, the disowned Catholic convert, through whom Father Gabriel gets an invitation.
De Maria also takes full advantage of my favorite aspect of a detective-priest book—he ends the story not when the culprit is caught, but when the culprit's soul is saved. This isn't done with a neat little paragraph summary, either. De Maria takes two full chapters. There are a few time-skips between the later chapters while Father Gabriel does all he can to save the murderer's soul, even if it means losing their lives. De Maria does not shy away from the fact that the criminal, by acknowledging their sin, is assured of getting sentenced to death. How many of us could save our soul if it meant having our life cut short?
De Maria also does a fantastic job capturing the feel of post-WWII England and the gradually uncovered tragedies of the Holocaust. Every person and setting has some ghost haunting them. When Father Gabriel goes to London, he describes the shock of seeing once-beautiful neighborhoods reduced to rubble. I've never read something that made the experience quite so visceral to me.
Father Gabriel too, has his ghosts, and hints of a life before the priesthood. I find him to be a much more rounded and fleshed-out character then I expected, and I anticipate learning more about him in subsequent novels. There is clearly a larger mystery in Father Gabriel's life that will be explored throughout his series.
Though there is some violence and dark themes explored (it is a murder mystery, after all), there is nothing in it that would offend a high school reader. If your kids can watch the TV show Monk without any trouble, than they will get a great deal more Catholic morality out of Father Gabriel. A well-versed mystery fan will find this story a delightfully satisfying puzzle. Non-Catholic Christians and Atheists will also enjoy the moral complexities and psychological depth that a priest-detective brings to the genre without ever becoming preachy.
As the second in a series of mystery stories I found it easily read as a stand alone adventure. De Maria's prose deserves to be counted among the Catholic classics.
Join Here for FREE to Never Miss a Deal
Find new favorites & Support Catholic Authors