Arrow in Flight is a moving story of the angels in heaven as they help their friend, cherub Gabriel, recover and heal from a traumatic attack incurred while on assignment looking for ten good men in Sodom. While not a fallen angel and still sinless, the scars of this experience leave Gabriel troubled, moody, and callous to the pains of the human race that hurt him so.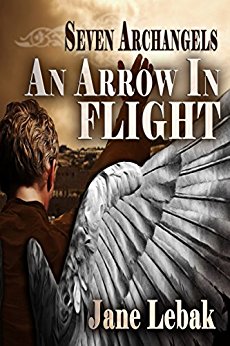 Subscribe to Catholic Reads to Get this Book on Sale!
Interspersed throughout Gabriel's journey are short stories introducing us to the other angels. This unique semi-episodic structure gives the novel an engaging rhythm that draws the reader into a fully realized world. It is clear that Lebak has done her research on angels and is introducing them as a community with relationships and personal strife. I enjoyed getting to explore their world and feel like an insider. Many of the events and short stories follow the historical events of the Bible referencing not only Sodom and Gomorrah but also the angelic visions of Ezekiel and the events of Tobit.
My favorite chapter in the book is a completely original story involving a forgotten princess and daughter of King David, who is visited by the angel Saraquael. He instructs her in the ways of poetry and accepting her cloistered, silent, and invisible life as a special grace and vocation. But when she falls in love with him things begin to get complicated.
I have only one rather nitpicky criticism. Throughout the story, it is obvious that God is preparing Gabriel for his role in announcing the conception of Christ to Mary. Unfortunately, by the end, I found myself so looking forward to it that the scenes went by too quickly for me, and I wanted more. Lebak is writing a five part series of sequels to this book though so hopefully that will sate my addiction to her writing rather than inflame it more.
I do think that a lot of Protestant Christians will enjoy this book as well. Arrow in Flight faithfully follows the history of God's people in the Bible, and while major characters from the book of Tobit appear, nothing taken from the book of Tobit or its characters contradicts any of the most common Protestant theologies. The only part of the book that strays into decidedly Catholic, Orthodox and Anglican territory is the epilogue. So evangelical readers out there won't find it ruins your enjoyment of the story, and this may even be a good gateway to dialogue with your Catholic brothers and sisters.
Atheist and agnostic readers will enjoy this book as a fun beautiful story that's not preachy. The characters are believers, and the text goes only so far as to explain the religious terms in the world. If you want a gorgeous read delving into the world of angels that reflects actual accepted beliefs about them then this is the book for you. The relationships between the angels are just as heartwarming as those in Supernatural, and I think you'll find that like everything else, Heaven is a much more interesting place when hear about it from a original source rather than through hearsay.
Or
Subscribe to Catholic Reads to Get Books Like this for as little as $1 or FREE!
Author's Website: http://janelebak.com/
Genre: Fantasy
Themes: Tobit, Guardian Angels, Angels, Heaven, Biblical History, Love, Conversion, Repentance, Humility, Compassion, Demons, Satan, Mary
Authors' Worldview: Catholic
Audience: Young Adult
Year Published: 2017