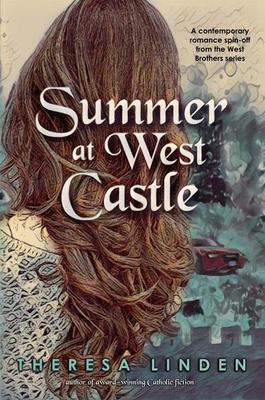 Enemies to Lovers Romance, Past Mistakes, Mercy, Forgiveness, Trust in God
"So, what are you doing here?" An honest question from Jarret West to Caitlyn, as she stands in the hallway of his house. He isn't happy to see her, and the tone in his question lets her know it. Caitlyn has made a list of the qualities she wants in a husband, and Jarret doesn't fit any of them.  So, how do these two fall in love with each other?
Caitlyn has the perfect summer job as a live-in maid at the West house, which seems more like a castle. It's the home of her friend Roland and his twin brothers, Keefe and Jarret. Coming from a small house without much privacy, Caitlyn is looking forward to the quiet of a large house. It's the perfect opportunity for a retreat. Unfortunately, the idea of a retreat is crushed when she is handed a list of daily chores. Not one to give up, Caitlyn dutifully sets out to complete her tasks. For a short while, Caitlyn joyfully settles into her routine until Jarret comes home. The two don't really get along.
Jarret has the chance of a lifetime¾ an archeological field study in Pompeii. He's a fool for missing out. When his favorite professor backs out at the last minute, Jarret follows suit. Plus going to Italy with his girlfriend seems to0  much of a temptation.  After all, he does have a reputation as a lady's man.  Hoping for a relaxing summer. Jarret decides to come home. How can he relax with his brother Roland's friend in the house?
From the moment Jarret dumps his luggage in the hallway, blocking a clear path, Caitlyn is sure he hasn't changed one bit¾always arrogant and bossy. Instead of getting angry or complaining to his father, she offers kindness. These tiny drops of sweetness from Caitlyn make Jarret yearn for a woman like her. Caitlyn sees a hidden vulnerability to Jarret that softens her heart towards him.  Living under the same roof has given Caitlyn and Jarret a chance to really get to know one another. There's plenty of romantic tension and humor between the two.
I love a good enemies to lovers romance. In the beginning, it's hard to see these characters as a couple. Caitlyn seems impossibly old-fashioned with her ideas of courtship.  Jarret appears to be the typical arrogant rich college boy.  Told from alternate points of view, readers get to know the thoughts that drive the actions of Caitlyn and Jarret. Little by little, the novel peels back their layers, revealing insecurities. Caitlyn has seen the girls Jarret typically dates and they don't look like her. Jarret wants to be a man worthy of Caitlyn, but he struggles with his past. After all, he was the one that got her friend pregnant in High School. Can Jarret convince Caitlyn with Our Lady's help that he's changed?
There is something so beautiful about a faith-filled romance. It's not about being wrapped up in the moment, rather, it's allowing God's presence to permeate the relationship. Clearly, Caitlyn and Jarret love each other. With their insecurities, especially Jarret's, I would imagine it difficult for their romance to blossom without faith. God has plans for Caitlyn and Jarret, just as he has with all of us. All we need to do is trust Him.
Summer at West Castle is part of the West Brothers series.  While Summer at West Castle takes place before Anyone, but Him,  Anyone, but Him should be read first to avoid spoilers. A beautiful modern romance  novel, worthy of any Catholic library.  Non-Catholics will enjoy the blossoming relationship but may not understand Jarret's devotion to Mary.
Get Catholic Books & eBooks for as little as $1 to FREE