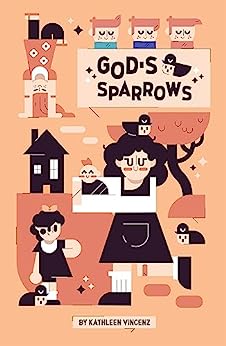 Middle Grade / Young Adult / Humor
Babysitting, Found Family, Humor, Prayer, Adventure
 Opening the refrigerator door to grab the cream puffs she made last night, fifteen-year-old Rose's thoughts were not exactly on finishing the dessert for her mother's failing catering business. Today, January 8th, she will prove she's an actor like her mother and nail the audition after school by getting a spot at theatre camp. Rose's plans change the second she hears a knock on the door.
Outside the midwestern town of Pencilberg, a winter storm is brewing. Yet everyone seems in desperate need of a babysitter. Rose has never babysat before, yet the neighbors feel completely comfortable handing over their children for her to watch. Do they notice the creampuff filling in her hair, or that she should be in school? Mrs. D. is the first to show up with precocious seven-year-old Lily. A little while later, Mrs. Gilbert drops off baby Stevie. Lily may be easy, but a baby? How will she manage? With her hands already full, three more children are put in her care: this time it's toddler triplets. The triplets are the baby brothers of dreamy, British Marvin from high school whose car broke down outside of Rose's house. How can she say no to her crush, Marvin?  Thankfully, he notices she is overwhelmed. Just when things couldn't get any worse, Lily's dad shows up demanding his daughter. Is he a concerned father or a villain? The storm gets worse, and when the power starts going out all over the neighborhood, people make their way to the nearby hotel. Without a car, Rose and Marvin manage to get the children safely there.
God knows what we need. Babysitting can be a tough job.  Rose, the dreamy teenager with a 1930s film obsession is not prepared for climbing out of windows, trekking through snowstorms, and running from villains all while keeping five young children safe, but she does it. Turns out this is exactly what she needs. Sweet Lily who always speaks her mind convinces Rose pray when things get tough. Rose may or may not have her prince charming in Marvin, but she did find a friend who knows what it's like to miss a parent. To entertain the children, Rose tells them the same story every time about a small bird, a sparrow, that flies from heaven to earth leaving gifts in the crook of the tree. The story proves to be a hit with the children and Rose begins calling them her sparrows. Through adventures Rose finds her faith, her courage, inspiration, and a makeshift family that lasts more than a day.
God's Sparrows is a wholesome Adventures in Babysitting type novel. Readers will delight in fighting against villains using creampuffs, Lily's flip-flops in winter, and the caviar lunch Rose, Lily and baby Stevie feast on. This is just a small sample of the hijinks Rose and her sparrows get into. The sparrows  I recommend this to all, especially to those girls who enjoy babysitting. This would also be a great book for mothers and daughters to read together.
Get Catholic Books & eBooks for as little as $1 to FREE