Reviewed by Mary Woods
Outlaws of Ravenhurst is a hidden gem of Catholic children's literature and, personally, one of my favorite historical fiction novels. Originally published in 1923, it's a high-spirited adventure tale that thrilled me as a child, and which is so well-written that I am happy to reread it as an adult. Sr. Imelda Wallace skillfully recreates the turbulent world of 17th century Scotland, where political and religious conflicts test the virtue of men, women, and children alike—creating both courageous martyrs and treacherous villains.
Genre: Historical Fiction, Middle Grade Fiction
Year Published: 1923
Audience: 10-15 years
Themes: 17th Century Scotland, Catholicism, Protestantism, Persecution, Adventure
Author's Worldview: Catholic
The story begins in colonial America, where 10-year-old Gordon lives with the Abells, a Catholic pioneer family in the wilds of Maryland. But his boyhood on the homestead is disrupted by the arrival of a group of Scottish nobles, who have come to take Gordon back to Scotland with them. To his shock, Gordon learns that he is not in fact the son of humble pioneers—he is actually the son of a Scottish earl, the long-lost heir to the noble House of Ravenhurst. His real parents smuggled him to America as a baby when Catholicism was outlawed in Scotland, and gave him into the care of the Abells, so that he could grow up practicing the true faith. But now Gordon's uncle, Sir Roger, has tracked down the young heir to bring him back to the family estate.
OR
Subscribe to Catholic Reads & Get a Weekly Catholic Book 50% off to FREE
When Gordon returns to Scotland with Sir Roger, his uncle tells him about his new responsibilities: he must learn how to lead his Highland clan and to restore the House of Ravenhurst to its ancient power and prestige. But Gordon quickly realizes that he is merely a pawn in his uncle's plan to grasp the earldom for himself. Gordon's rightful inheritance is not the only thing at stake. His uncle is a Protestant—more for political safety than anything else—and he demands that Gordon renounce his Catholic faith, too. As Gordon learns more about his family history, he discovers that his real parents were also persecuted for their Catholicism, and this knowledge gives him the courage to defy his uncle's threats.
A tale of spiritual conviction in the face of very real danger, Outlaws of Ravenhurst also has the elements of a classic adventure story. There are courts and castles, secret tunnels, shipwrecks, and last-minute rescues. There's a wonderful smack of Scots dialect, adding to the historical flavor. And the action is non-stop; there is not a dull scene in the book.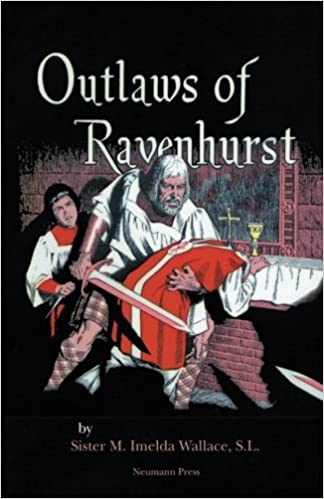 In addition, the characters have more depth than the heroes of a typical action-adventure. Gordon and his family endure real suffering for their faith. In particular, they show immense reverence for the Eucharist, risking their lives numerous times to receive and protect the sacrament. The villains of the story are not shallow, either, but realistically drawn, with compelling personal and political motivations.
Subscribe to Catholic Reads & Get a Weekly Catholic Book 50% off to FREE
I would highly recommend this book for 10- to 15-year-olds who enjoy historical fiction or adventure stories. Also, it makes a great read-aloud book; the prose is beautiful and the dialogue extremely well written. If you have been searching for a story with strong Catholic themes that is equal in quality to classic adventure books like Robin Hood or Treasure Island, then don't pass up Outlaws of Ravenhurst.