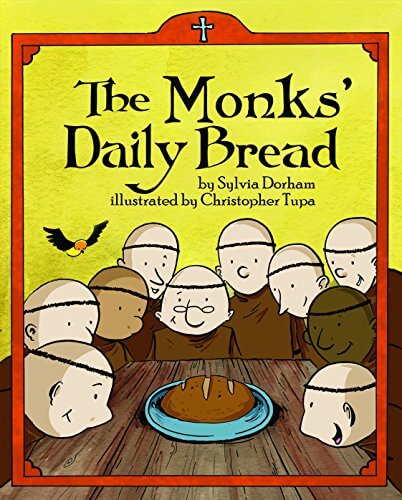 Children's Literature, Nursery Rhymes
Trust in God, prayer, sacrifice, faith, suffering, offering it up, Monastaries, Monks, Religious Life
Ever wonder what it's like inside a monastery? In this adorable rhyming picture book, Sylvia Dorham takes young readers through the doors of a monastery. Readers follow the monks at Archangel Monastery in their daily activities. Unfortunately, the monks have no food. What will they do? Father Abbott tells them Jesus will provide. With grumbling bellies, the monks study, read, pray, tend the garden, and enjoy the afternoon- all on an empty stomach. Do the monks complain? No. They ask Jesus to provide for them and offer up their sufferings. Just before dinner a truck arrives at the monastery with a delivery.
The Monks' Daily Bread is a fun rhyming book similar to Dr. Seuss. My daughter and I have read this book many times and, like Hop on Pop, we are entertained each time. The illustrations are cute and eye catching. It's a great first book for young readers. The words are simple and the rhyming makes it easier for them to read. At the end of the book is a verse from Philippians.  I recommend this book for all Catholic families with small children.  We keep coming back to it in our home. Since this book takes place in a monastery, it is particularly suitable for Catholics.                                     
           Trust in God is the main theme in this book. The monks are hungry but they can't go to the store to solve the problem. They must rely on God. Instead of grumbling or sleeping -in, the monks do the best they can on an empty stomach. They see their suffering as an opportunity to grow closer to God. Prayer is also a big theme. The monks start their day off with prayer and they pray throughout the book. One particularly meaningful illustration shows Father Abbot praying before the tabernacle. After reading this book, parents can ask their children if they have ever had to go without something. They also discuss the importance of prayer. Can you trust God to provide? That's a big question for adults and children alike. This book helps us understand that God will provide for all our needs on a level that toddlers can understand.
Get Catholic Books & eBooks for as little as $1 to FREE