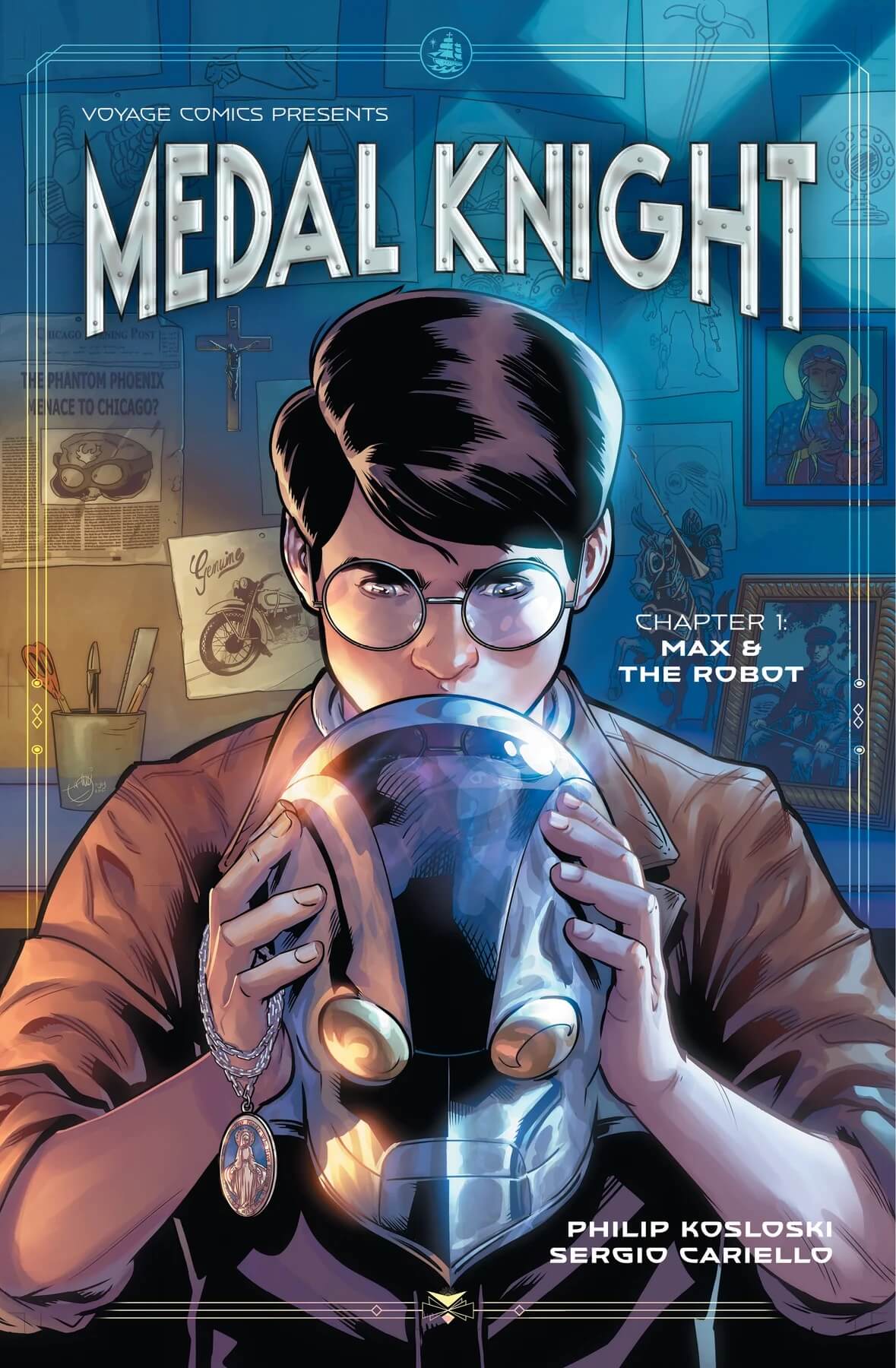 Graphic Novels Science Fiction Historical Fiction Middlegrade
Mary, Ethics, Responsibility, Industrial Age, St. Maximilian Kolbe, Robots, AI, The Miraculous Medal
It's the 1920's in Milwaukee, Wisconsin, and Max, a young technical genius, has just finished building the world's first housekeeping robot. When he learns that his patrons actually intend to use his creations for criminal activities, Max has to think fast to thwart them. In doing so he becomes a superhero in his own right.
 In any tech-powered super-hero story these days it is impossible to avoid comparing it to Iron Man, but aside from the tech, Medal Knight has some unique differences. The first one is that the hero is a regular young man and not a billionaire. The fun 1920's setting also sets it apart. The other difference is the overt Catholic theme of Mary and the Miraculous medal. Devotion to Our Lady is a real and present inspiration to the hero and his mother. At the back of the comic there are pages explaining more about the inspiration that St. Maximilian Kolbe and his Militia Immaculata had on the comic. Besides those two pages, though, the story is providing some good old-fashioned entertainment, motorcycle chases, and the promise of more to come.
As a longtime devotee of St. Kolbe AND a science fiction fan this hit all my nerd buttons in the best way. Even the way the artists drew Max looks like pictures of St. Kolbe from his younger years, making this feel like an alternate history where St. Kolbe became the inventor he'd considered becoming before joining the priesthood. I wonder if this Max will end up traveling the world, visiting the Japanese Christians only recently release from hiding, and saving Jews from Hitler the way his real-life inspiration did.
Catholics and Marvel fans alike will quickly fall in love with this series. Because of its more overt Marian and saint themes, it might not be as well received by non-Catholics. The Finnian series might be a better gateway for introducing them to Catholic inspired comics. But I see no reason why every Catholic home, school, and parish should not keep a copy of this on hand. Voyage comic has quickly come to be synonymous with effortless education and entertaining story.
Get Catholic Books & eBooks for as little as $1 to FREE