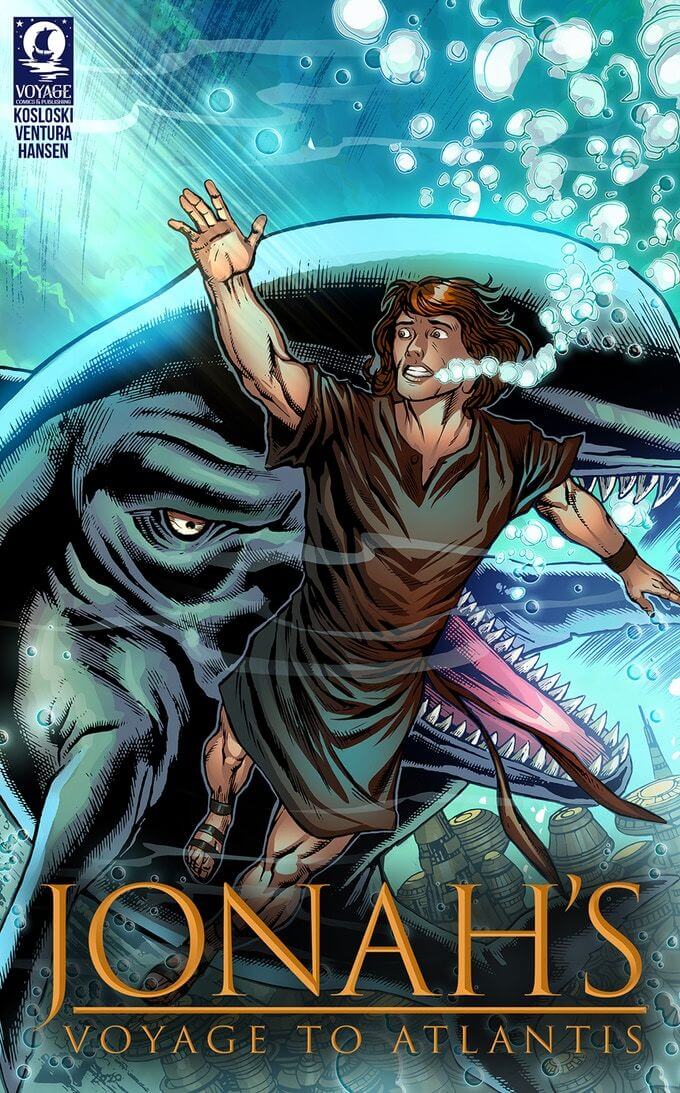 Biblical fiction, Fantasy, Graphic Novel
vocation, trust, faith, good versus evil, demons, obedience, repentance, the Bible, Nineveh, Atlantis
What if Jonah had traveled through the underworld while trapped inside the whale?
Jonah and the whale is a familiar Biblical story: a young prophet, chosen by God to warn Nineveh about its evil ways, tries to run from his calling and ends up in the belly of a whale. Properly rebuked, he fulfills his duty to God and warns the city, inspiring the people to convert. In this reimagination of the Biblical narrative, inspired by the translation written by J.R.R. Tolkien, Jonah's journey with the whale is given a fantastical twist. He finds himself in Atlantis, also known in this version as Sheol, a place for the dead to wait, where Jonah encounters his Biblical forebearers such as Adam, Eve, and Abraham. Through this meeting, he better understands his mission and his God—and the dramatic battle of good versus evil that has raged since the uprising of Satan.
This adaptation is utterly charming. It starts in the manner of a traditional epic – in the middle of things, with Nineveh on the brink of a terrible decision, and God visiting Jonah apparently not for the first time. It reads like a mix of the Bible and Lord of the Rings with a dash of superhero action for good measure. And our protagonist Jonah has that roguish personality that endears the reader to him and makes his feelings relatable despite the fantastical setting. Who among us hasn't asked God "Why me? Go away. I'm not good enough!"
The interaction between Jonah and other Biblical figures in Sheol is not only intriguing, it also makes the events of the Bible more personal. These prophets of old become people who can offer support to others who struggle. Although that's a concept we know as Catholics – that's why we read the Bible and pray for the intercession of Saints – sometimes a fresh look helps to bring that reality to life.
I absolutely recommend this book to all readers, but especially Catholic boys and young men. Protestant readers may also like it – provided the reader doesn't mind a little Biblical fantasy. If artistic liberties with the Bible upset you, then this wouldn't be a good read. And, of course, if Biblical lessons upset you, then this wouldn't be a good read. Secular readers will probably prefer other adventure stories.
But for the rest of us who enjoy drama, action, humor, and spiritual truths, Jonah's Voyage to Atlantis is sure to please.
Get Catholic Books & eBooks for as little as $1 to FREE