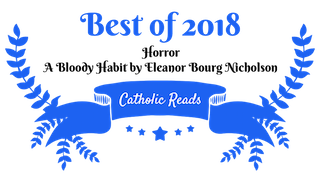 Hands down, this book is the strangest, most hilarious book I have yet reviewed for Catholic Reads. I'm not even quite sure in what genre to categorize it. It might be horror—but it's tempered by a Catholic optimism so confident that it positively giggles at evil. Though gore and mayhem have their moments, the story is too hilarious to ever really scare anyone.
Subscribe to Our Weekly Newsletter & Get this Book 50% off to FREE
The story begins with lawyer John Kemp meeting a vampire hunter and a vampire on a train back to London. He's only just shaken off the horrid experience when he learns that a very annoying acquaintance of his has been brutally murdered, his body found ripped open as if by an animal. Despite the fact that Kemp and the deceased man didn't get along, he finds himself in charge of enacting the dead man's will. Along the way he finds evidence that his client may have been murdered. Between working with the police, avoiding marriage to pushy debutantes and filing the paperwork for a suspicious new branch of the Masonic Lodge, Kemp will have to struggle to keep his life normal, boring and sane; just the way he likes it.
or
OR
Subscribe to Our Weekly Newsletter & Get this Book 50% off to FREE
John Kemp starts out as the most pompous Englishman that ever buttered a crumpet, and oftentimes when he was most afraid, I found myself in stitches. At the start of the book, Kemp has a stuffiness about him that makes him nearly as afraid of being locked into conversations with jolly papists as he is of his first encounter with an actual vampire. He reminded me of some of Chesterton's comedic characters. Over the course of the book, he learns humility and gets over his many anti-Catholic prejudices.
Genre: Horror, Mystery, Fantasy Adventure
Year Published: 2018
Author's Worldview: Catholic
Audience: General Audience / High school & Up
Themes: Exorcism, Dominican Order of Preachers, Anti-Catholicism, Dracula, Vampires, Victorian England, English History
Perhaps, I thought to myself as I read it, this book belongs in the mystery camp. And indeed, there is a brutal murder at the start of the story and a lot of paranormal goings-on, but none of these followed the methodical clue-finding structure I'd come to expect from a mystery set in Victorian England. The paranormal signs happen in dreams or involve conversations with regular Victorian people caught up in the fads of Ouija boards and séances. They sounded very similar to modern people I've met obsessed with the same thing. Confirmation of actual vampires doesn't show up until over halfway through the story. I had begun to think that vampires were just a grand metaphor, and when they did finally appear, I was as taken aback as John Kemp. Even without the comedy and mayhem, Nicholson's prose alone could serenade me. She captures a lot of the charm of Victorian era writing without making things too complicated.
In keeping with modern vampire books, Nicholson offers her own spin on the creatures, bringing in a lot of the same rules and terminology that surround Catholic exorcisms. Her main Vampire-hunting priest is heavily inspired by Fr. Brown's temperament and just as amusing. She also pays homage to Dracula, opening each chapter with a line from that book. But Nicholson also takes care to point out the things that Bram Stoker got wrong about Catholicism in his book. There was one infamous scene in particular when a character mashes up a consecrated host into putty and uses it to fill in the cracks in a door. The character doing this says that this is ok because he has an indulgence. When John Kemp first meets the Dominican Vampire-hunting friar, the priest wastes no time in addressing those issues. "It's rollicking good fun," says Rev Thomas Edmund Gilroy O.P. D.C.L., regarding Dracula, "All quite ridiculous of course…Like that business of the consecrated host and the putty. Rome would never grant a dispensation—and it would be a dispensation not an indulgence, but then the author is not yet a Catholic and so wouldn't know. His wife is Catholic now." Indeed, I didn't even know that Bram Stoker was heavily inspired by his wife's Catholicism before I read this book.
I recommend this book to anyone who wants a good laugh. Any secular reader or religious reader of another faith will find nothing insulting or problematic, because the religion in the book is integral to the characters who simply live their faith honestly without being preachy about it. Catholic readers will simply find an added layer of catharsis and enjoy giggling at the expense of Victorian anti-Catholicism.