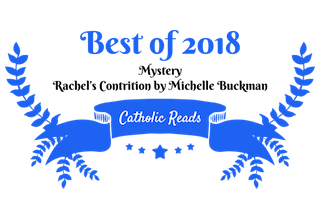 Rachel is insane, but people feel safe with a harmless woman who can't even discern what is reality and what is a nightmare. People whisper secrets to insane women, confess things they wouldn't otherwise, even if those secrets have to do with an unsolved murder. Michelle Buckman writes a thrilling story for mystery fans, but above all her's is a book for those who struggle to forgive themselves for their own failings; people who desire healing.
Genre: General Fiction / Mystery / Drama
Themes: Forgiveness, healing, love, Mourning, Parenting, Loss of Children, St. Therese of Lisieux, Truth, Classism
Year Published: 2010
Rachel's Contrition opens with Rachel living in her friend's pool house, trying to pull herself back together after her infant daughter's untimely death and after losing her still-oh-so-beloved husband and custody of her young son. To top it all off, her friend's son is found stabbed to death in her borrowed home while she's out wandering the mall, trying to remember what she went there to buy in the first place. As she pieces her life and her sanity slowly come back together, Rachel finds help, not from her distant psychologist, but from a young troubled girl who reminds her of herself, and from a little nun from Lisieux. She'll have to heal fast though if she wants to save her marriage, find justice for the murdered boy, and save the only real friend she has left in the world.
Anyone who has trouble comprehending St. Therese of Lisieux should read this book. Rachel's Contrition opens up St. Therese's wisdom in a way that only heartbreak can do. It challenged me to examine my own grudges and to look at the things I have a hard time forgiving in myself, but what really shocked me about this book was that it made me cry.
Or
OR
Subscribe to Get Our Weekly Newsletter of Catholic Books 50% to FREE
I'm a full-blazing INTJ, and I think the last time a book brought me to tears was the finale of the last Harry Potter book, and that just left me teary-eyed, not actually wiping water off my face. I'd forgotten why people read books that make them cry. I'd forgotten the release it gives, and that clean feeling you have when you finish it. It's shouldn't surprise me then that a major climax of this book happens in a confessional.
Another thing that surprised me about this book was the revelation of the murderer. It's been a while since a book has truly surprised me like that and yet as soon as it did, the revelation felt so right and perfect, I was slapping myself for not realizing it sooner. It is a testament to the strength of the writing.
This book would be welcome to Christians of all denominations. Rachel finds solace and healing in a Catholic Church, but the focus is on accepting and asking for God's forgiveness. Even the Catholic priest character is very human and grappling with his own demons. The presence of St. Therese too, is more centered on the woman's devotional writing. The central theme is about accepting Christ's love and learning how to live as a secure and confident child of God. Secular readers too wouldn't find this preachy, as the emphasis is on Rachel's character and her healing. This book also does a good job explaining any churchy language. Any readers who have had to grapple with forgiving themselves for mistakes made will find this a moving and cathartic read.
Subscribe to Get Our Weekly Newsletter of Catholic Books 50% to FREE