Reviewed by Mary J. Woods
Teaching young children about Jesus and the importance of a personal prayer life can be challenging—but Mark Restaino and J. P. Alcomendas have created a book to do just that. Jesus, Do You Want To Be My Friend? is a delightful picture book that depicts the everyday life of the Holy Family in simple but vivid illustrations. It can also serve as a child's first prayer book: every page features a simple prayer along with a scripture quotation.
Review by Mary Woods
Genre: Children's Literature
Year Published: 2019
Author's Worldview: Catholic
Themes: Jesus, Childhood, Prayer, Scripture, Family
Audience: Ages 2-6
The book opens with a brief introduction that encourages children to think of Jesus as a friend, like the friends they have in their own lives. Restaino then gives a very simple explanation of prayer: prayer is just talking to Jesus and asking questions. The rest of the book gives examples of the kinds of questions children can ask Jesus in different situations ("Jesus, can you heal me?" "Jesus, can you help me forgive?" "Jesus, do you love me?" etc.).
OR

Subscribe to Free Our Weekly Newsletter & Get Access to 100's of Catholic Books for as little as $1
Each short prayer is paired with a lovely illustration by J. P. Alcomendas. The pictures follow the child Jesus, drawn as a playful and enthusiastic 5- or 6-year-old, through the events of an ordinary day with his parents. Mary is depicted as a gentle, lively young woman, always smiling or laughing, while Joseph is the kindly and watchful carpenter, enjoying the antics of the young Jesus. Pictures include Jesus helping Joseph in the carpentry workshop, climbing trees, playing hide-and-seek with Mary, skipping rocks by the seashore, and many other heartwarming scenes of family life. The vivid colors and expressive faces of the characters are sure to entertain even children who are not quite old enough to understand the words.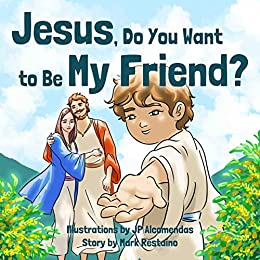 Another wonderful feature of the book is the scripture quotes on each page. Below each simple prayer, Restaino provides a Bible verse that touches on the same topic or theme. Themes include obedience, healing, thankfulness, forgiveness, love, joy, trust in God, and many others. These quotes give young children an introduction to many familiar verses from the Gospels, the letters of St. Paul, the Psalms, and other books of the Old Testament.
Subscribe to Free Our Weekly Newsletter & Get Access to 100's of Catholic Books for as little as $1
This book is best suited for children between the ages of two and six. The vivid illustrations will keep toddlers entertained, and for slightly older children, the text and Bible verses provide a very simple introduction to personal prayer. It's a perfect bedtime story for parents who want to begin teaching their kids how to have a relationship with Christ.